Right now is the best time to start planning for and designing a summer vacation home, as building projects are slowing down in the fall and winter months. Whether you are looking for a new sanctuary for some peace and quiet to recharge, or somewhere to gather with family and friends, there are many reasons for investing in a vacation home, and many associated benefits as well. 
If you are already someone who loves to leave on vacation for multiple weeks or months at a time during the warm season, owning a summer house in your dream location could very well help you save money in the long run. A vacation home could also help you build wealth, either by simply letting its real estate value increase overtime, or by using it to generate rental income. However, keep in mind that renting it out may have tax implications. 
Moreover, when investing in this kind of home at a relatively young age, it could become your primary living space once you retire. Last but not least, building a vacation home allows you to customize it based on your personal needs and preferences, which is one of the greatest plus sides about this type of project.
Convinced, yet? Now let's dive into some essential elements to consider when designing your summer vacation retreat.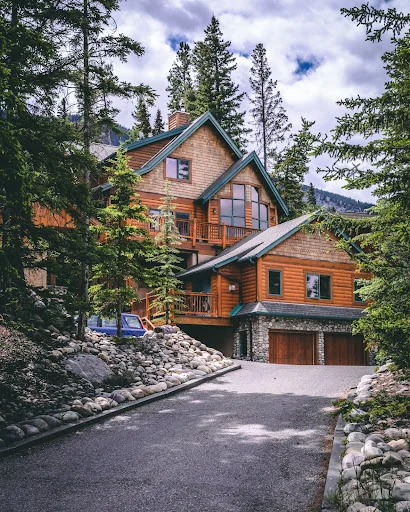 Photo Credit: Unsplash             
Define the house's intention 
The first thing to do when designing a vacation home is to think about the intention behind the house. The intention is the purpose of this new home, which will greatly influence the design process. To get a better sense of what you want this home to resemble, think about the kind of space you want to create and the function you want it to serve. Will it be a space for your family, do you plan on receiving guests, or both? Will it include kids, or is it a personal haven for yourself and perhaps a significant other? 
The environment in which the house will be built, for instance by the water or surrounded by woods, also has an impact on the design. For instance, if you are looking to build a beach house, consider airy and lighter spaces, while if you would prefer a mountain home, think about creating warmer and cozier spaces. 
Once you have defined your vacation house's intention, the second step is to consider its position.
Positioning the house adequately
The position of your vacation home is a crucial detail that can't be overlooked during the design process, as it has the power to elevate or tarnish your experience in the house. To ensure you get the most out of this summer home, you need to be aware of where the view is located in relation to the building site, and design the house around it. Orient the most important rooms of your home toward the view and add large windows that effectively capture the sight. 
Not only must you consider the view, but also think about the direction of the sun. A vacation home is usually synonymous with large amounts of time spent outside. For this reason, you want to be aware of the sun and shade areas around your home and plan accordingly. For instance, if the backyard lacks shading, think about attaching a pergola to your house, incorporating a gazebo or some protection so that you are able to enjoy the outdoors during all seasons. 
Practical and entertainment interior planning
A great summer home requires well thought-through interior designs to accommodate all vacation-related activities so that you have less to worry about when you are there. The first design tip you want to keep in mind is to carefully plan your mudroom. Whether you want your house situated on the beach, in the mountain, or anywhere in between, it will most likely involve muddy, sandy, basically dirty shoes and clothes. Hence, design your mudroom appropriately, planning for the space to be "adaptable, comfortable, and accessible," whilst living up to the rest of the house's charm.
Moving on to the kitchen, the heart of every home, this is one of the spaces that you will likely wind up using the most, so think big! Consider plenty of countertop space, a large pantry where you can stock bulk and nonperishable items that you will be able to leave when you return to your primary home, and enough space to receive multiple guests if you anticipate hosting. You may also want to create an open space with the kitchen and the living room to create more flow and a better sense of togetherness, and perhaps situate the room toward the view outside.
Furthermore, a summer house wouldn't be the same without some great entertainment features. You may want to plan for a theater room, with a big screen, large and comfy couches and a surround sound system. Maybe even add a game room, which may include a combined tennis and pool table, as well as a foosball table. It is a vacation home after all, so don't be afraid to make it fun!
Outdoor amenities
Although cool entertainment features are always a plus in a vacation home, let's be honest, outside is where the real fun happens! As mentioned earlier, the kitchen is often a popular space, hence, it may be pleasant–and practical–to have an outdoor kitchen as well! If you must cook on vacation, what better way to do it than directly outside, surrounded by the peaceful sound of crashing waves or chirping birds! 
Other big exterior features include a saltwater pool and hot tub. After a day spent in the ocean or amongst the vegetation, coming back to a refreshing pool and a relaxing spa is always great. Plus, saline water is easier to maintain than chlorinated pools.
Lastly, a summer vacation home often implies outdoor equipment, which screams storage! No matter the location of your vacation home and the activities it may entail–whether you own a jet ski, a boat, kayaks, a four-wheeler, fishing poles, floats, hunting equipment, etc.–planning for an easily accessible outdoor storage unit is a must.
Planning for guests
If you anticipate receiving guests in your summer home, it may be a good idea to build a small guest house. This mini guest suite has the potential to provide a more comfortable stay for all. But beyond this option, it is still very much doable to have guest rooms directly in your summer home. When designing them, be sure to provide space and privacy to your guests, by making the rooms big and comfortable enough to fit a good-sized bed and all of your guests' belongings. Also think about positioning the rooms away from typically noisy areas. If you plan on hosting children, consider designing a bedroom full of bunk beds. Kids and parents will love it and it will prove space-efficient!
Widler Architecture has you covered with different design propositions to meet all of your expectations. Right now is the ideal time to start planning your next summer vacation home, so contact us today to make your vision a reality.