The opportunity we have all had to experience more time at home has us dreaming about what we could do to repurpose our bland outdoor living space into an outdoor oasis.
The backyard has a unique and personal connection to nature that checks more than a few boxes off the wanderlust wish list. It should really be your favorite summer destination, with unique designs and creative energy that is a perfect haven for catching your breath and retreating into when global and even regional travel is restricted.
To make a charming outdoor space that is the envy of Instagram and your soon-to-be guests, take in these five ideas you can get started on for this upcoming summer!
Outdoor kitchens
Outdoor kitchens that mix equal parts fabulous and function are really a gamechanger when you have the space to accommodate. Gourmet grills offer plenty of countertop prep space, and built-in coolers make outdoor entertaining easy and effortless. Try a wood-burning pizza oven for the quintessential ode to the old country.
And nowadays, backyard entertaining wouldn't be the same without a built-in keg to keep your adult refreshments on tap and on demand for those hot summer days! Creating an outdoor cooking experience with the idea of gourmet to-go will have you scrapping all travel plans and opting for something a lot closer to home.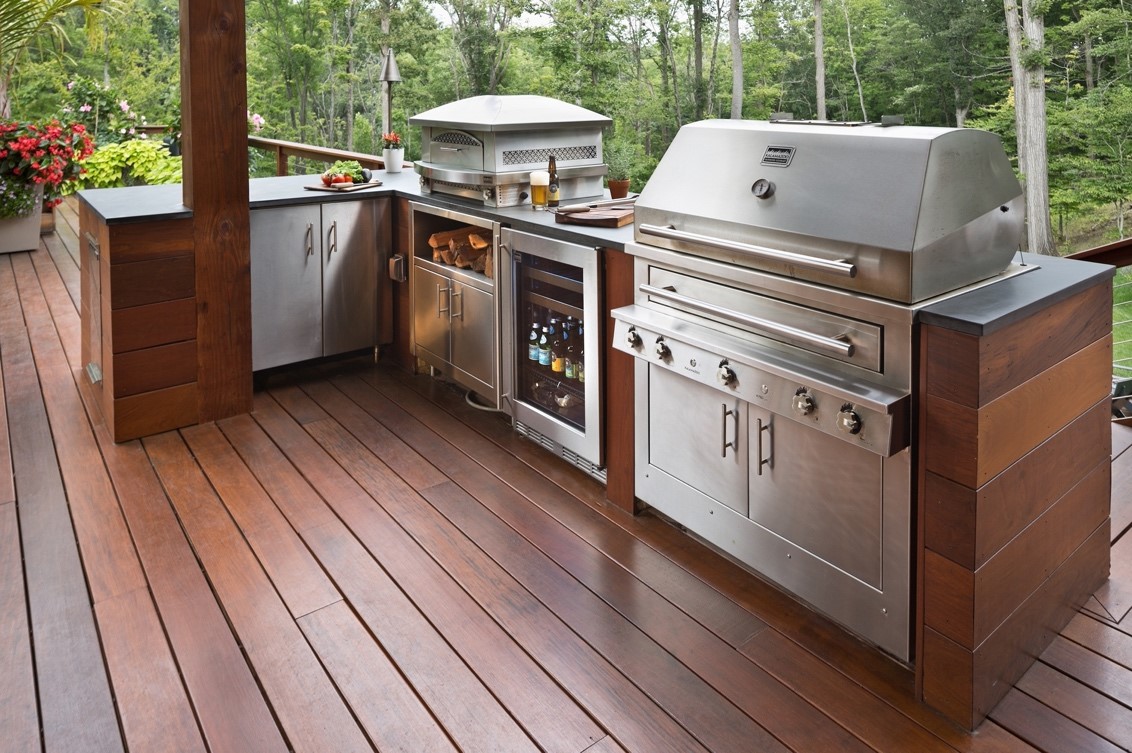 Patios and privacy
Your backyard shouldn't just be used for sunny days. Sometimes you want to hang outside when there's a storm rolling in, or watching a summer rain shower cleanse your space. Consider a covered grilling station with protected seating to provide a touch of neighborhood privacy, but also a comfortable den that is your own country club.
We all might not have the extra space to accommodate gems like this, but hey – flaunt it if you got it!  Take in this dreamy space below, courtesy of HGTV.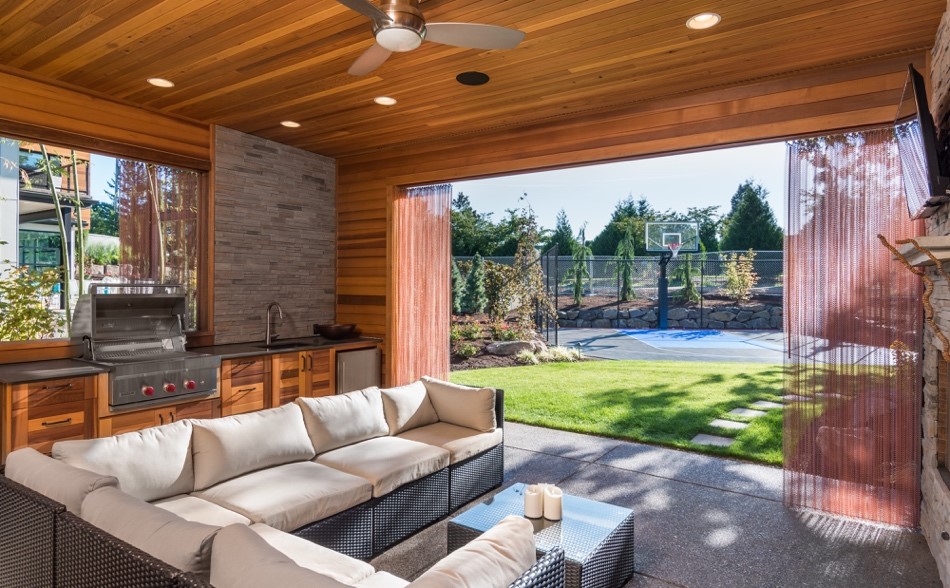 Image Credit: HGTV
Built in reading nooks
One of the greatest aspects about a vacation is getting engrossed in a good book and watching the time melt away. Now you can make your own outdoor reading nook and re-capture a reading zone that is dedicated to you. Sometimes this means getting creative with claiming patio space for a lounge chair or adding a hammock off to the side with some shade. However it makes its way into the blueprint – just make sure it's a non-negotiable during the planning stage.
Discover the next generation of decks
Decks aren't just for hanging out lakeside; they are carving out their own niche at home. Take your deck game to a whole new level with an expansive seating area offering multiple vantage points, with an elevated view for the rest of the yard. If you need to start somewhere when redesigning the backyard – this is stop number one!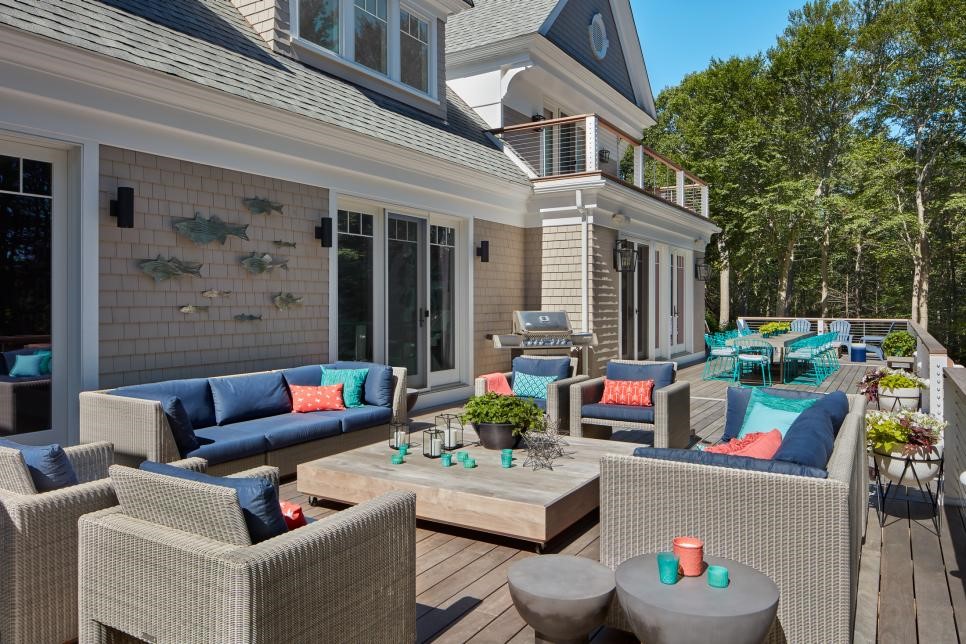 Image Credit: HGTV
Comfy seating and backyard fireplaces
There is nothing as quintessentially summer than roasting marshmallows by the fire with late-night hangouts under the stars. When it comes time to safely being able to invite guests over to relax, a backyard fireplace is sure to get good mileage. Set the tone with comfy, outdoor-friendly furniture, or add in a day bed to highlight the importance of relaxing.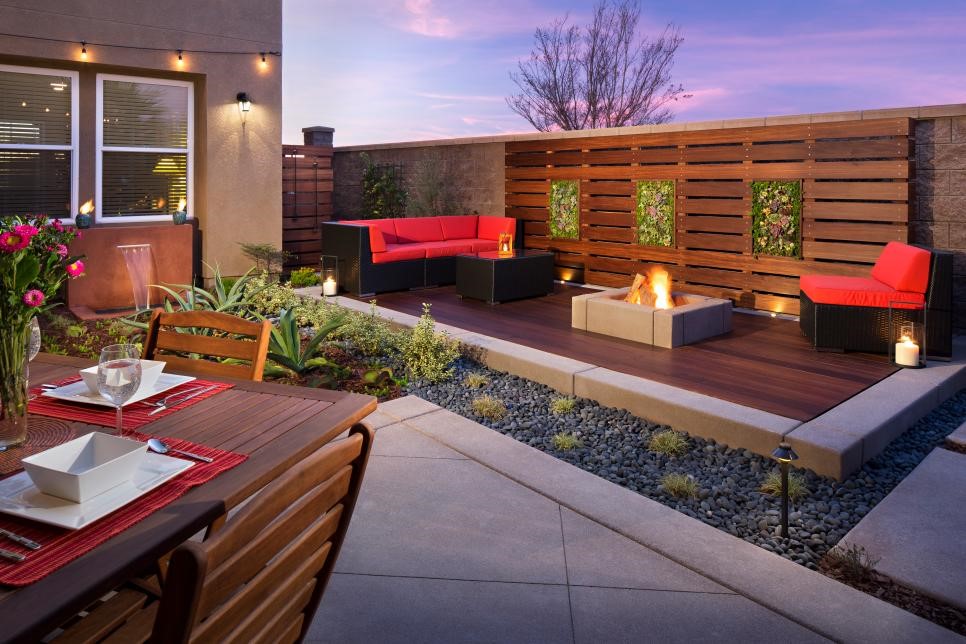 Image Credit: HGTV
Create your own connection between your home and backyard
The idea of the staycation hits closer to home than ever before. With the demands of our homes now stretched farther than we could ever have imagined, creating an all-natural escape can happen easier than you think.
Widler Architecture is your Chicagoland landscape architect that can tap into the potential of your outdoor spot and really bring your visions to life this summer!