From physical exercise and healthy eating to relaxation and mental health, wellness can mean a multitude of things to different people. But despite the magnitude of interpretations, they all boil down to a same united purpose which is to care for one's body and soul.
Following the hardships of the last two years, wellness spaces are earning their place in the home as people are seeking ways to repose and recharge their thoroughly challenged and exhausted minds. In fact, architects and designers have observed increasing requests for such peaceful and resting spaces in the home, where people are pursuing hobbies or enjoying some quietude.
These spaces can take any form and fit anyone's idea of wellness, from grand and luxurious architectural details to refurbished tricky corners and unoccupied spaces. Whatever the design, these wellness spaces all share the common ability to offer a break from technology and a retreat right here at home.
Here are 6 ideas of dedicated wellness spaces to treat yourself this National Wellness Month!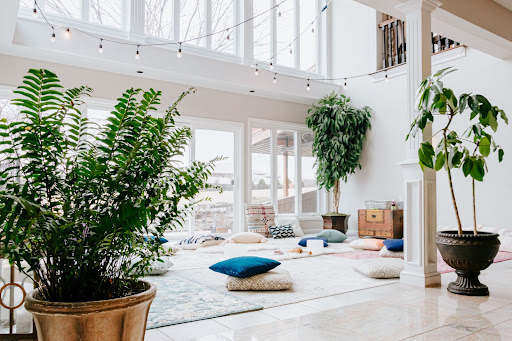 Yoga & Meditation Haven
Whether you're already a fanatic of yoga and meditation or you've just picked up these hobbies, having the right environment to practice at home is a definitive advantage! As these activities draw from the natural elements, breathing rhythm and the relationship between your mind and body, you may want to mirror those elements in the design. 
Natural stone walls, lots of plants and greenery, large skylights and an ambient water fountain are all ideas that will help you get in the right tranquil headspace for your sports. Leave all your worries behind and focus on yourself in this ideal personalized environment.
Serene Basement Pool Hideaway
If you seek relaxation in the water, this concept is for you! The key to a sensational and inviting basement pool room that doesn't feel cramped but spacious instead is high ceilings. Soft indirect lighting is also crucial to achieving a relaxing and sumptuous feel. 
To add to the luxurious look, consider picking reflective materials onto which the light may spring, light-colored marbles, intricate patterns, and elevated features such as large symmetrical marble columns and a sizable mirror installed above the pool. Not only will a dip in the water help soothe your mind, but the room's ambiance will also contribute to improving your well-being.
Peaceful Interior Courtyard
People are bringing in more natural elements and greeneries into their homes for their calming and relaxing effects. Take your reconnection with the natural world to the next level with the erection of an interior courtyard right in the center of your home. 
Achieve a stunning look using glass walls or an elevated platform to delimitate the space, and high ceilings with large, retractable skylights to provide enough sunlight to the plants and allow the trees to grow tall. There you'd have it, a nice little getaway area in the heart of your home that you can run to whenever you need to ground yourself… and better air quality all around your house!
Outdoor Sanctuary
Beyond the home itself, investing in an outdoor wellness space allows you to take advantage of the quiet area whilst enjoying a light breeze and soaking up the sun. The space can fulfill different wellness needs. On the one hand, you can build a peaceful oasis with a beautiful inground and originally shaped pool with a matching hot tub surrounded by lots of delightful vegetation. 
On the other hand, it can serve as a space for you to carry out hobbies that bring you joy, for instance, gardening. Spending a couple of hours tending to neatly organized garden beds below a shade-casting wooden pergola can be incredibly therapeutic!
Music Room
Music is proven to be an effective stress reliever and relaxation inducer. And if you're a music lover, what better way to fill two needs at once than by designing a music room as your wellness hub! Explore your creative side or simply relish in the comfort of this passion room at the end of a long day. From designing a 1970s-style music studio with retro furniture and a shag carpet finished off by posters of your favorite artists, to a luxurious classical piano music room, make sure to style this wellness space to your taste. 
Library Nook
While you may not have an entire room to devote to your wellness in your home, rest assured. Not all ideas need to be extravagant. If what you're working with is a tricky corner, consider transforming it into an improvised library with wooden shelves, a beautiful rug and some comfy seating. Voila, you have a quiet and peaceful little nest to go to anytime you need a break from your computer or to unwind while sipping on a generous glass of wine!
So, what does wellness mean to you? However you make sense of it, our team at Widler Architecture would love to help you build a space in your home dedicated to your well-being. Whenever you're ready, give us a call, and we'll start bringing to life your ideal wellness setting.